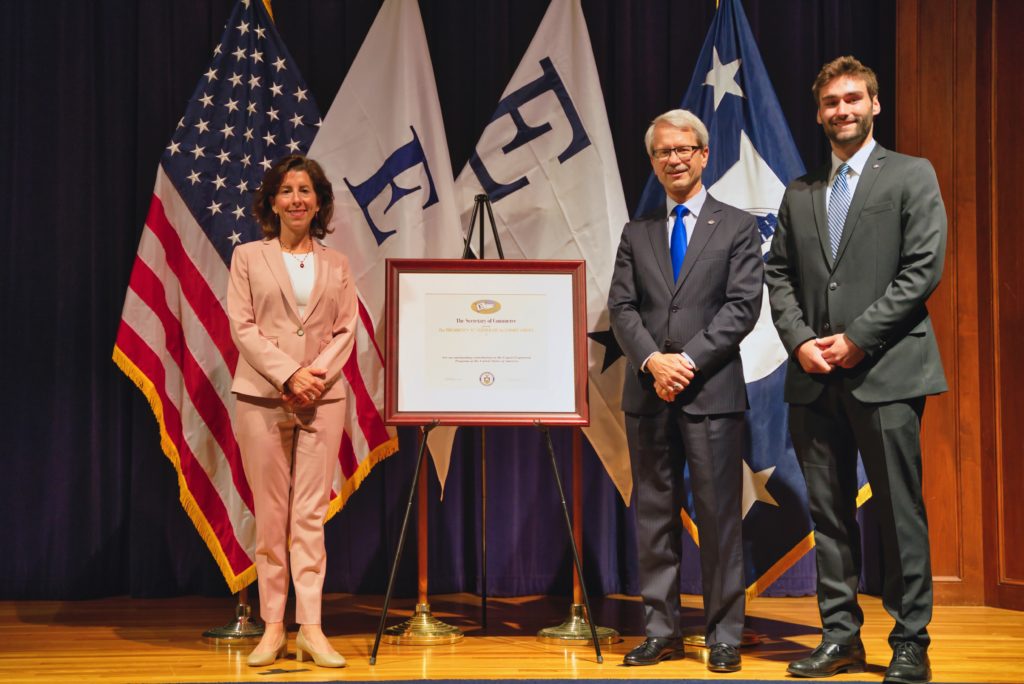 Madison, WI – July 18, 2022 – E.M. Wasylik Associates (EMW) has been awarded the "E" Award for Export Service for the firm's role in assisting and facilitating export activities. 
U.S. Secretary of Commerce Gina Raimondo recently hosted the 61st President's "E" and "E Star" Awards ceremony in Washington, D.C. at the Herbert C. Hoover Building and presented 19 U.S. companies and organizations with the President's "E" or "E Star" Award. These awards were created in 1961 by Executive Order of the President and are the highest recognition a U.S. entity can receive for making a significant contribution to the expansion of U.S. exports. EMW was the only Wisconsin-based company to receive an award. 
Ken Wasylik, Managing Director of EMW, shared his appreciation for receiving this recognition. "There are many, many people who have contributed to the firm's success since its inception in 1998. Thank you to our entire team and to our partner base who have worked with EMW since our founding. I am honored to receive this award, and see an incredibly promising future that lies ahead for the future of exports. Our team looks forward to continuing its work with companies based in the United States and around the globe!" 
During her remarks, Secretary Raimondo shared, "U.S. exports are a crucial component of our global commercial engagement and example of our competitiveness in the global marketplace. I'm thrilled to recognize the achievements of this year's recipients for showcasing the innovation and dynamism that is characteristic of America's private sector." 
About EM Wasylik Associates 
E.M. Wasylik Associates offers a full range of tactical to strategic international business and financial services to firms that aim to expand their global business and operations. Founded in 1998 by Ed Wasylik and Ken Wasylik, two CPAs with a global mindset with decades of experience and track records assisting businesses grow in revenue and profitability, the firm focuses on clients expanding their Business Across Borders™. More information at www.emwasylik.com, +1 608.850.5643.